Sep 1, 2023 07:58 AM Central
Sherri Sharpe Herzberg
As parents, we make decisions every day to ensure our family's well-being. But how do we know we are making the best decisions? Do you ask yourself this question as often as I do?!
You can keep researching until you find the answer you need, or you can take advice from someone you already know and trust. This is exactly what I did...researched ways to make our back-to-school season easier and asked every experience mom I know for advice. I compiled everything I learned regarding our routine that will help you. Ready? Let's start with our morning…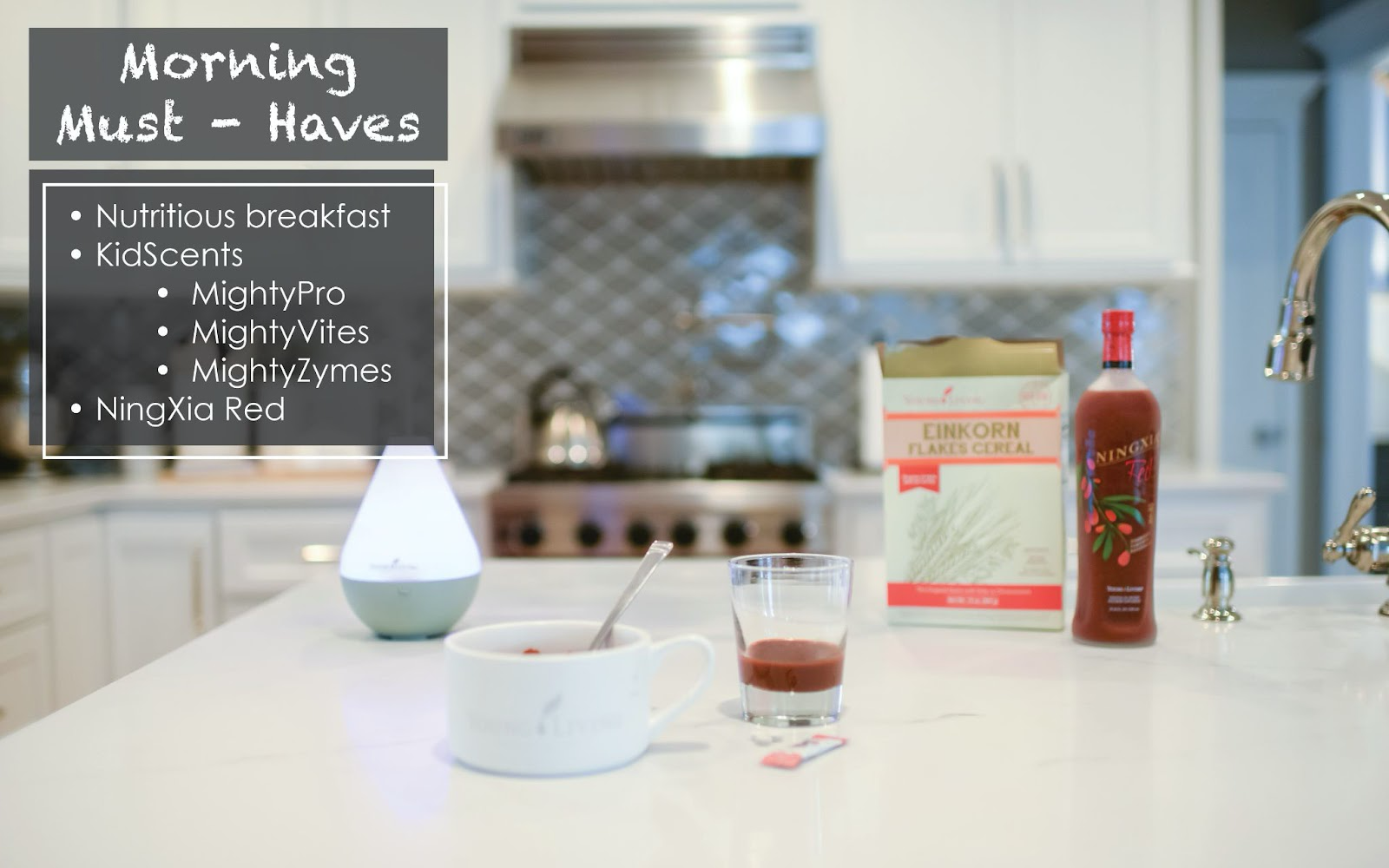 Now that your children are rested (and we'll talk about how to make that happen later), you can get the morning off to the best start with nutrition and complete body support.
Start them off with a nutritious breakfast. Make sure your breakfast includes a complex carbohydrate and protein to keep those bellies full longer!
Add in a Pre/Probiotic. Kidscents MightyPro - Pre/Probiotics that taste like candy and do their job in supporting a healthy gut. This step is actually better to do at night, but if you are prone to forget this step at bedtime, add it to your morning routine! Gut health is important for healthy emotions and the ability to absorb nutrients.
Give them their vitamins! Are you worried that your kids aren't eating enough veggies? We have you covered. Young Living vitamins are formulated without the dyes and synthetic ingredients found in your typical kid's vitamin.
Kidscents MightyVites chewables - MightyVites benefit from Orgen-kids®, a nutrient-dense, food-based superfruit, plant, and vegetable complex. Free of preservatives and artificial colors and flavors, these delicious, berry-flavored chewables give your children full nutritional support.
MightyZyme chewables contain enzymes that naturally occur in the body to support and assist the digestive needs of growing bodies and the normal digestion of foods.
NingXia Red is packed with superfoods to support overall wellness. This antioxidant-packed drink supports energy levels, normal cellular function, and whole-body and normal eye health. A daily shot of 2–4 ounces helps support overall wellness with powerful antioxidants. I always have a stash of frozen individual packs so they can grab one on the way out the door. They love starting their day with a "slushie".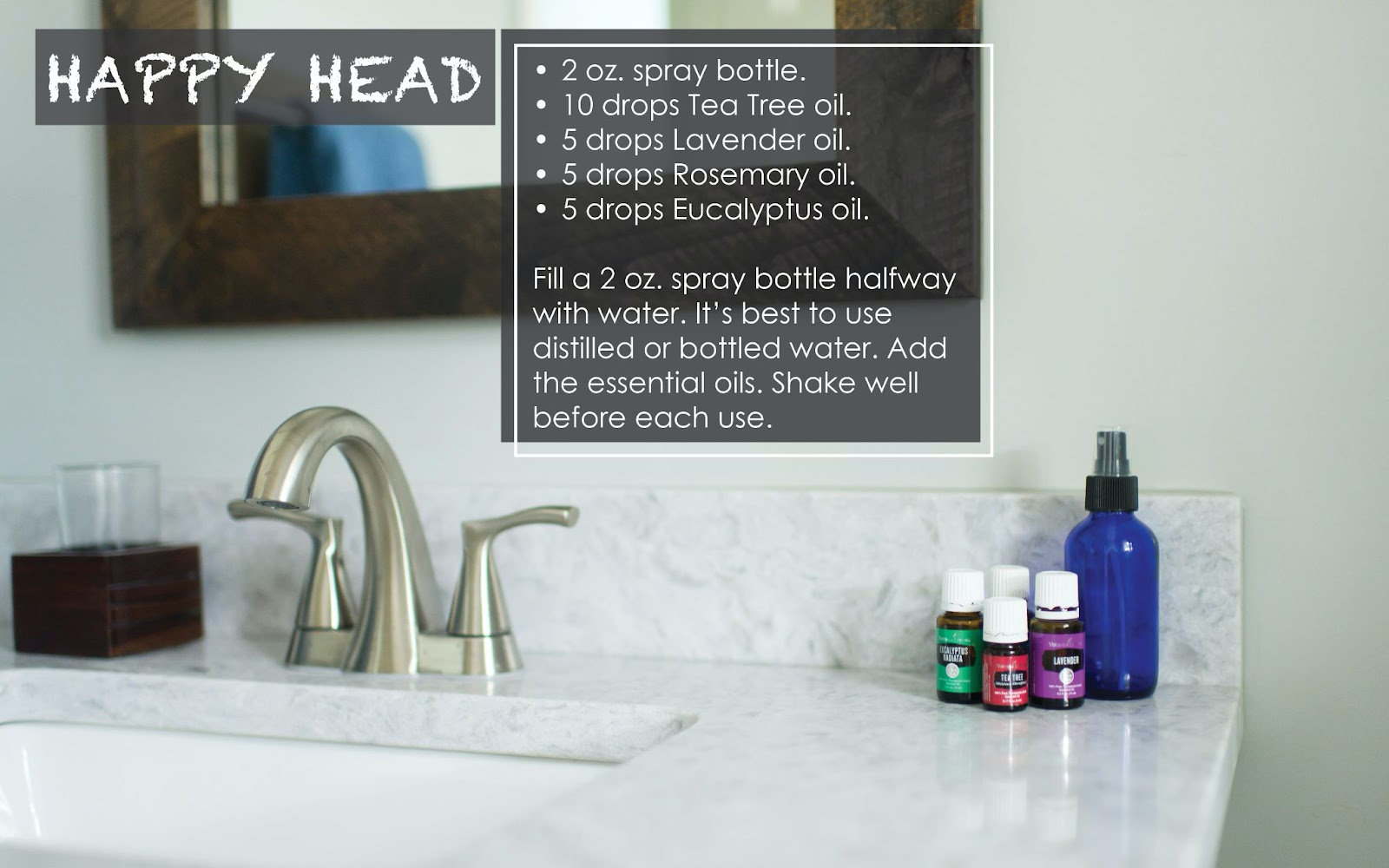 I don't know about you, but we like to keep our heads nice and happy in this house. This is the perfect head spray to use every single morning as you brush your child's hair ESPECIALLY if you get that dreaded lice note home from school!
Happy Head Spray Recipe
Fill a 2oz spray bottle halfway with water (it's best to use distilled or bottled water) and add the essential oils. Shake well before each use. Focus the spray towards the scalp around the ear area.
Topical and Aromatic Wellness-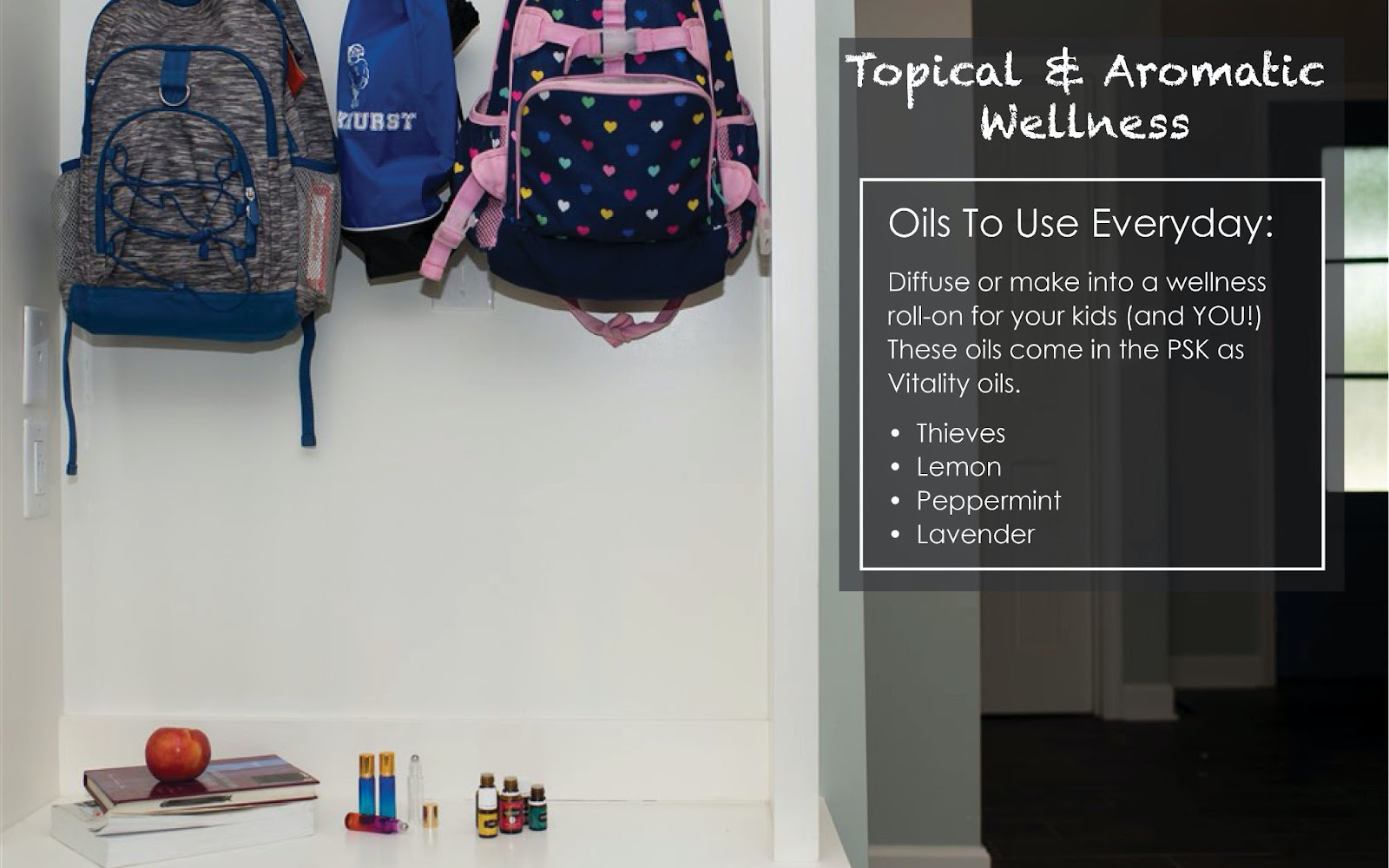 Back in the day, we did things differently.
Parents would wait until they had to keep their kiddo home from school and then they would go to town, dousing him/her in these magic plant juices.
NOW, we all know better. If you use these oils every single day instead of waiting for a problem to develop, the oils can help you maintain your and your child's health.
Nothing is foolproof, but if you find yourself or your kiddos needing to stay home, double the frequency with which you use your essential oils and Thieves Cough drops, the most effective cough drops I have tried. They also taste great!
Your kids will be back at it in no time.
POPULAR EVERYDAY OILS FOR WELLNESS--
Frankincense

Peppermint

Thieves

Lemon

Oregano

Bergamot

Eucalyptus
Pick a few favorites and diffuse a few drops of each before and after school.
Make a wellness Roll-on by adding 5 drops of three or four oils listed above to a 10 ml bottle then fill it up with a carrier oil.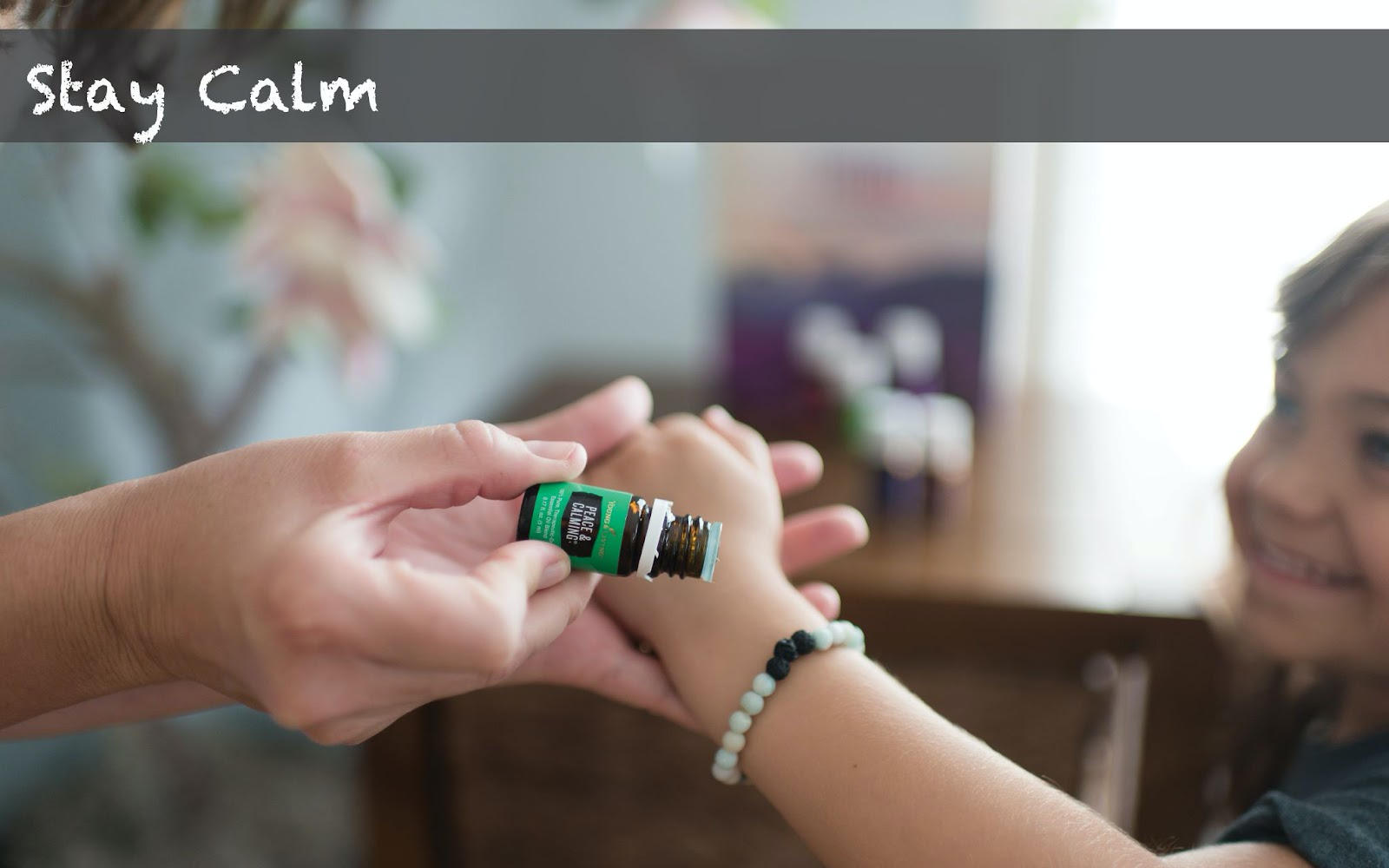 Now that your kids have the best nutrition in their bellies and are armed with their wellness roll-on, it's time to support their emotions during and after school.
School can be a rough time for everyone. It is filled with excitement and anxiety. The best way to combat stress quickly is to use essential oils. Remember that when you inhale essential oils, the tiny molecules go deep into the brain, straight to the places that help you manage your emotions.
One of my favorite mom
tricks is to apply your child's favorite calming oil to a diffuser bracelet. The lava rocks absorb the oil so your kids can smell it throughout the day. Apply 1-2 drops just before school.
If you are new to oils and aren't sure which ones to try first, here are a few favorites that are very effective in calming nerves.
- Lavender
- Stress Away
- Frankincense
- Valor gives a boost of confidence.
- Peace & Calming is relaxing and calming.
- Vetiver is calming.
- The Feelings Kit is a kit of six oils specifically for emotions. (Harmony™, 5 ml, Forgiveness™, 5 ml, Inner Child™, 5 ml, Present Time™, 5 ml, Release™, 5ml, Valor ™, 5 ml)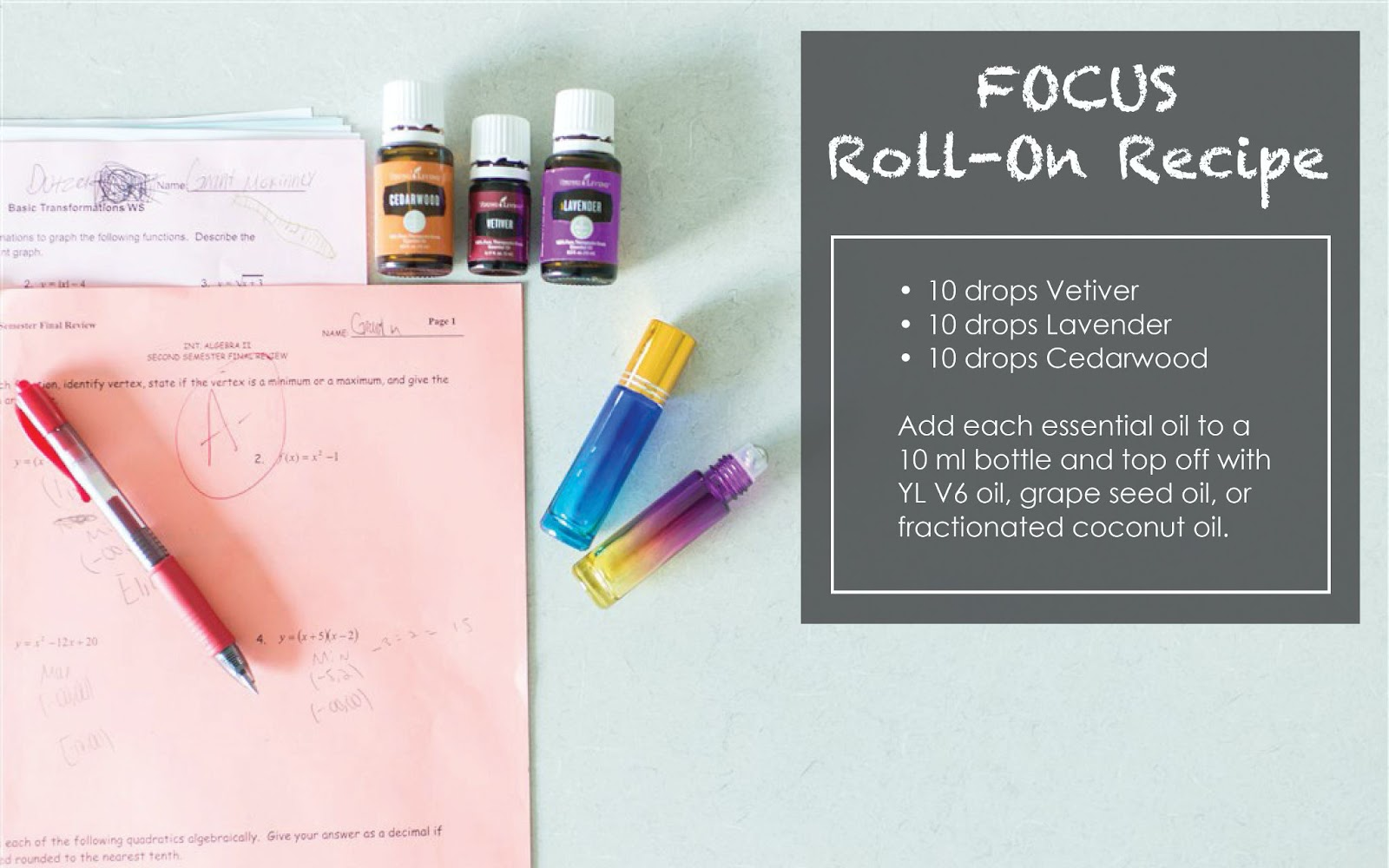 Whether it's during school or after, kids are always learning new concepts and need to be able to focus on tasks.
Teach your kids how to use the Focus Roll-On recipe featured in the graphic. Instruct them to roll on their neck and wrists and to inhale when they need help focusing.
If your school does not allow your child to keep essential oils roll-ons in their backpack or at their desk, you can try two alternatives.
1) Have the school nurse hold on to the roll-on. Your children can go see her when they need to apply the Focus Roll-On.
2) Apply one drop of each oil to their diffuser bracelet before they leave for school. Instruct them to smell the bracelet before important focus times like after recess and lunch, and before tests.
POPULAR OILS FOR FOCUS--
Lavender - Inhaling Lavender essential oil during recess can increase concentration when back to the classroom.


Lemon

Peppermint

Thieves

Cedarwood

Vetiver

Rosemary

Brain Power

Gathering
1) Play around with different oils to see which may be more effective. Every child can respond differently.
2) Use these oils along with the "stay calm" blend for extra effect.
3) Diffuse or apply Lemon to your child's diffuser bracelet during study time. Apply Lemon again before tests.
I have heard that smelling Lemon oil during a test will help them recall information they retained the last time they smelled Lemon while studying.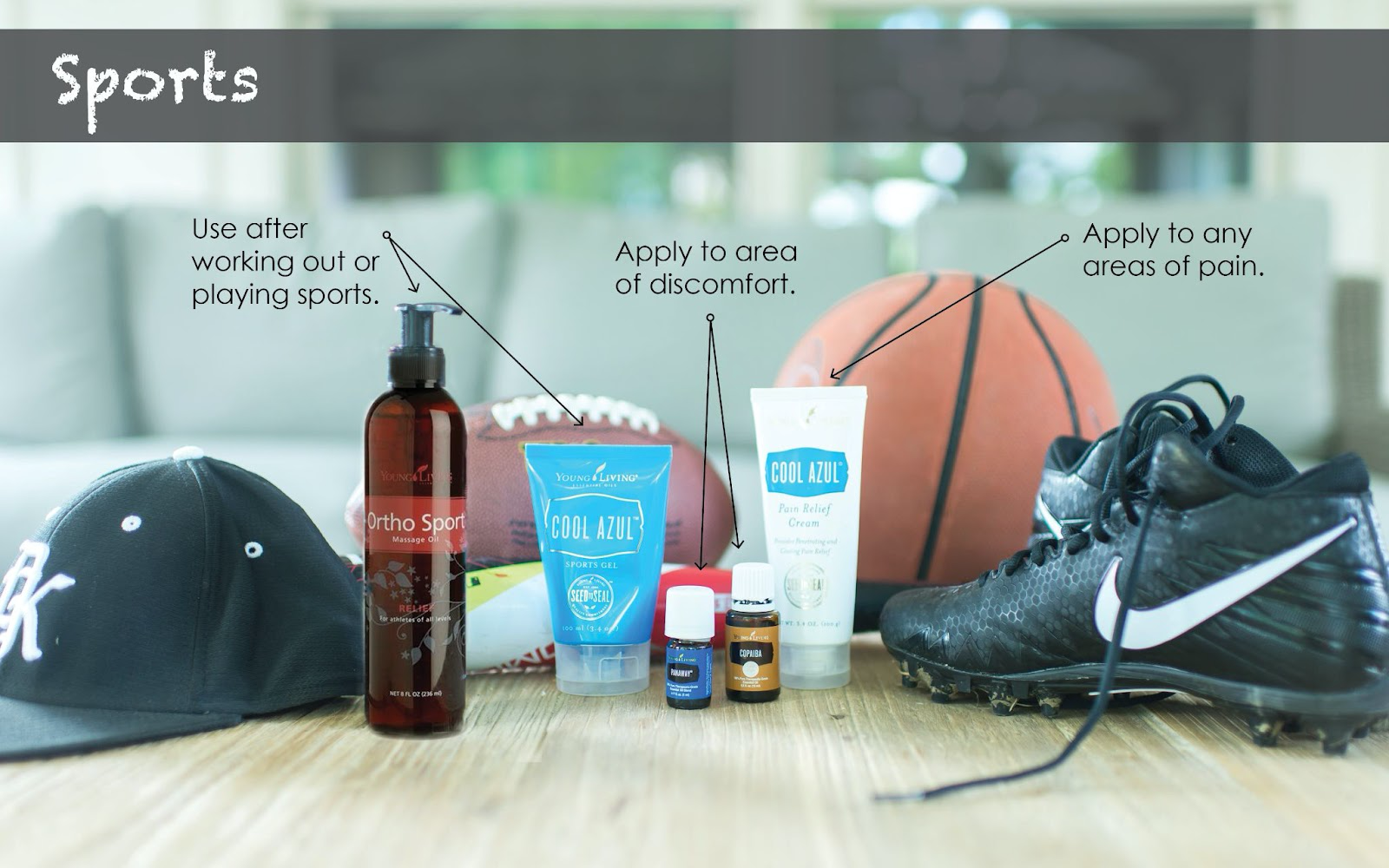 When school starts, a lot of kids do sports. Strains and sprains can be a common occurrence during sports season.
Most parents' go-to solutions are common OTC medications like Ibuprofen; however, medications like this can have long-term damaging effects on your child's body.
Instead, try the safe and effective OTC by Young Living called Cool Azul Pain Cream. It provides cooling relief from minor muscle and joint aches, arthritis, strains, bruises, and sprains. A little goes a long way. Apply as often as needed.
Also great for growing pains!
Long practices, games, and tournaments can call for some much-needed muscle relief.
Dilute 1-2 drops of PanAway* and Copaiba to the area of discomfort. For larger surfaces, use more essential oil and carrier oil.
Other favorites are:
- Cool Azul Sports Gel
- Ortho Ease Massage Oil
- Ortho Sport Massage Oil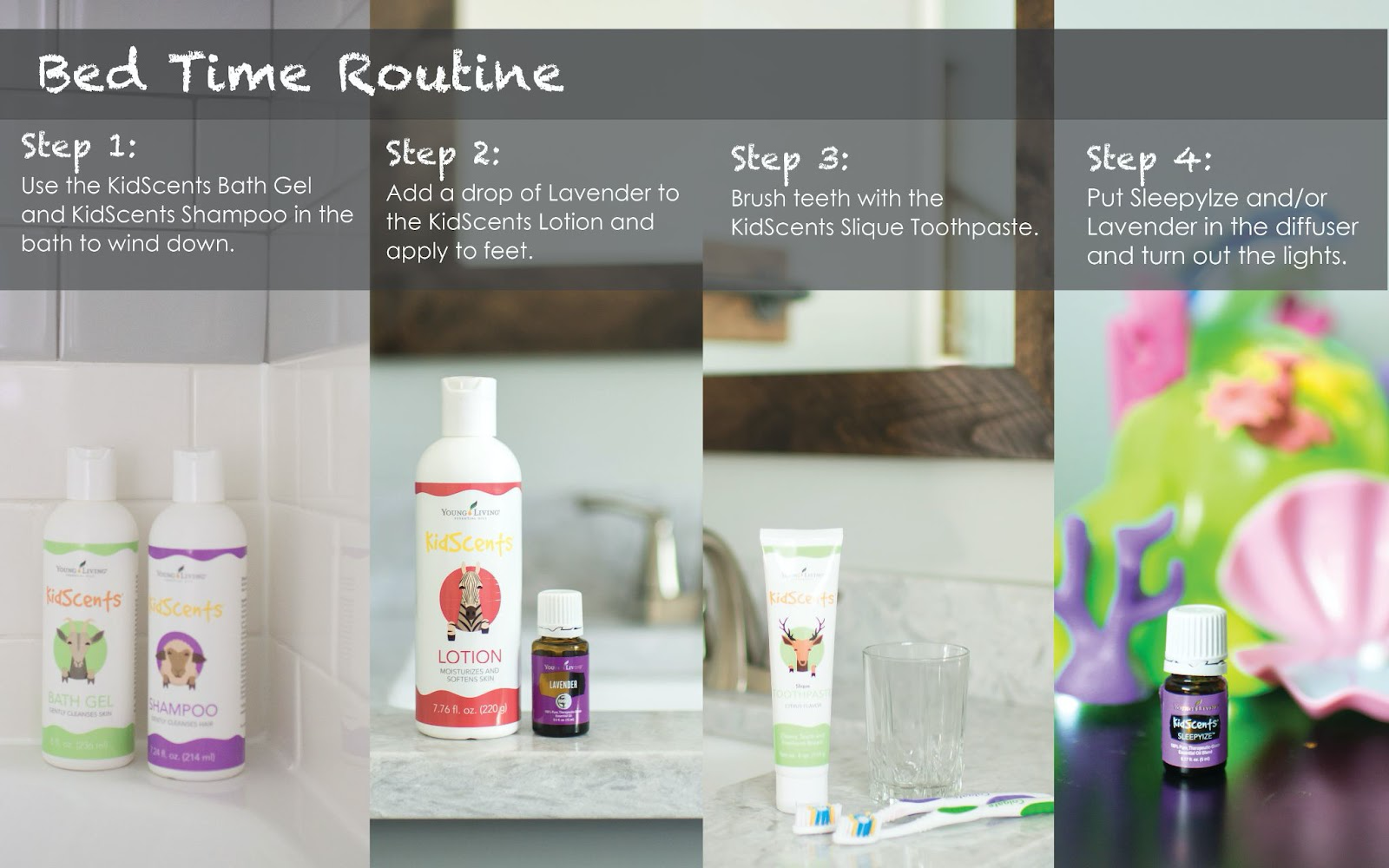 Nothing says "get ready for school" like a good night's rest.
Routines are important for kids because they provide quality time before bed. When you have a routine, kids are less likely to resist bedtime, and they are more likely to fall asleep fast and stay asleep through the night.
Try these four steps in your Night Time Routine--
Start with a bath. Baths can be a great way to calm your kids down before bedtime.
Use the KidScents Shampoo and KidScents Bath Gel. They are free of harmful chemicals.
Before putting on pajamas, lotion them up with KidScents lotion. Add a drop of Lavender and apply to feet. YL lotion is formulated with no mineral oils, no synthetic perfumes, no artificial coloring, and no toxic ingredients. Adding Lavender will make sleep even more restful.
Brush their teeth with the KidScents Slique Toothpaste. Some popular kinds of toothpaste still contain triclosan, a harmful chemical the FDA banned from antibacterial hand soap. The Young Living KidScents product does not contain any triclosan or Flouride. It is formulated with all safe and effective ingredients.
Put 4-6 drops of SleepyIze and or Lavender in the diffuser and turn out the lights.
Essential oils effectively calm your children and help them get a restful night's sleep.
That's it! You just heard the basics of our daily routine during the school year! Shoot me any questions you have. You know I'm happy to help!
Here's your
easy button
for ordering. I added every single item mentioned in this post to a wishlist!
Apr 18, 2023 11:11 AM Central
Sherri Sharpe Herzberg
This post will give you some cool summer secrets and teach you how to use AMAZING Young Living products to enhance your summer experiences!
Every good meal starts with a yummy starter, so let's begin with some appetizer recipes. Appetizers give your guests teaser bites of delicious flavors while they mingle and wait for the main course! Put all those garden-grown and farmers' market veggies to great use with these recipes!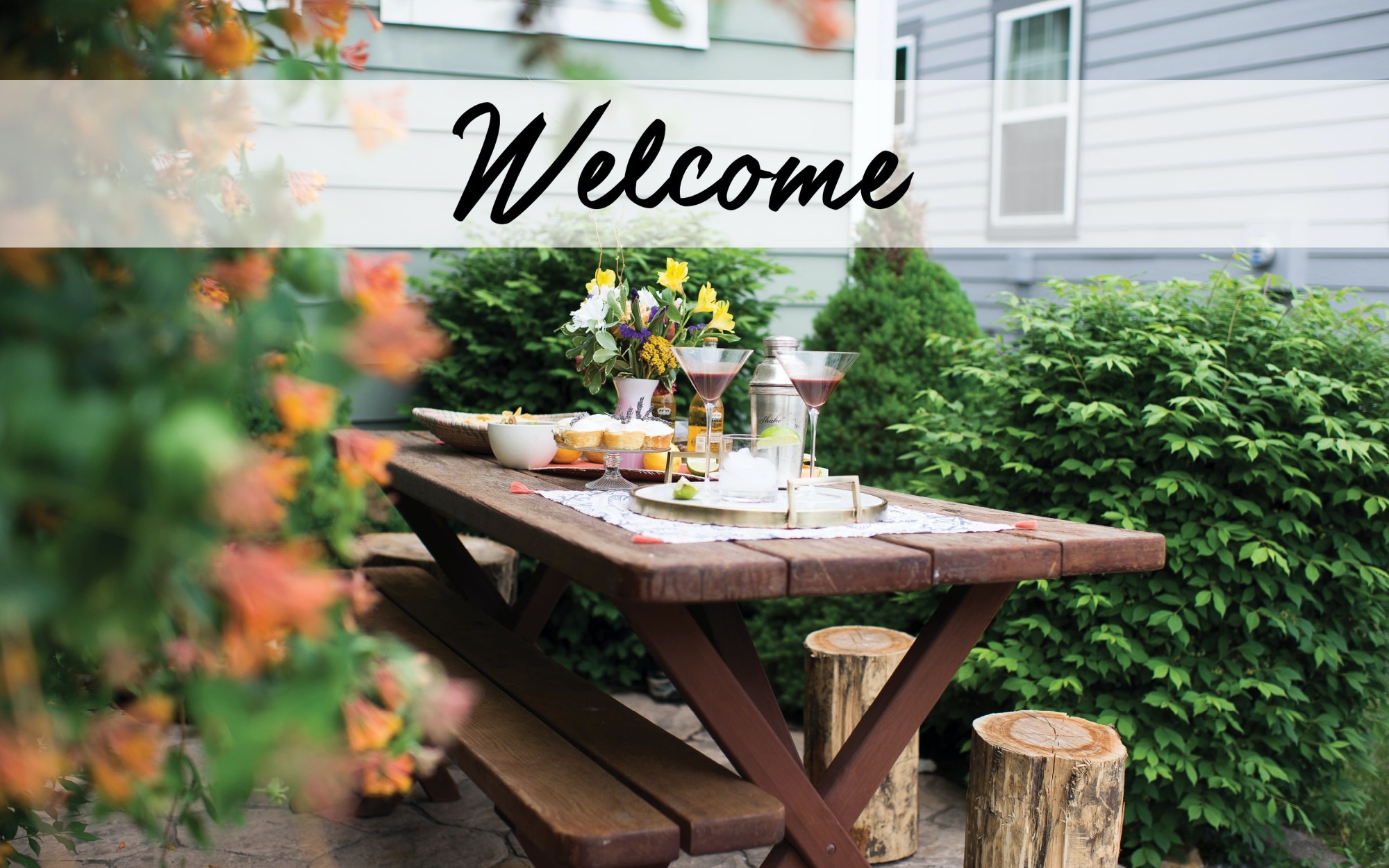 2 ripe avocados, seeded and mashed with a fork
1-2 T red onion, finely chopped
2 cloves garlic, crushed/minced
1/2 to 1 drop Lemon Vitality Essential Oil
1/2 to 1 drop Lime Vitality Essential Oil
1 small Roma tomato, diced
1 t fresh cilantro leaves, finely chopped
Salt to taste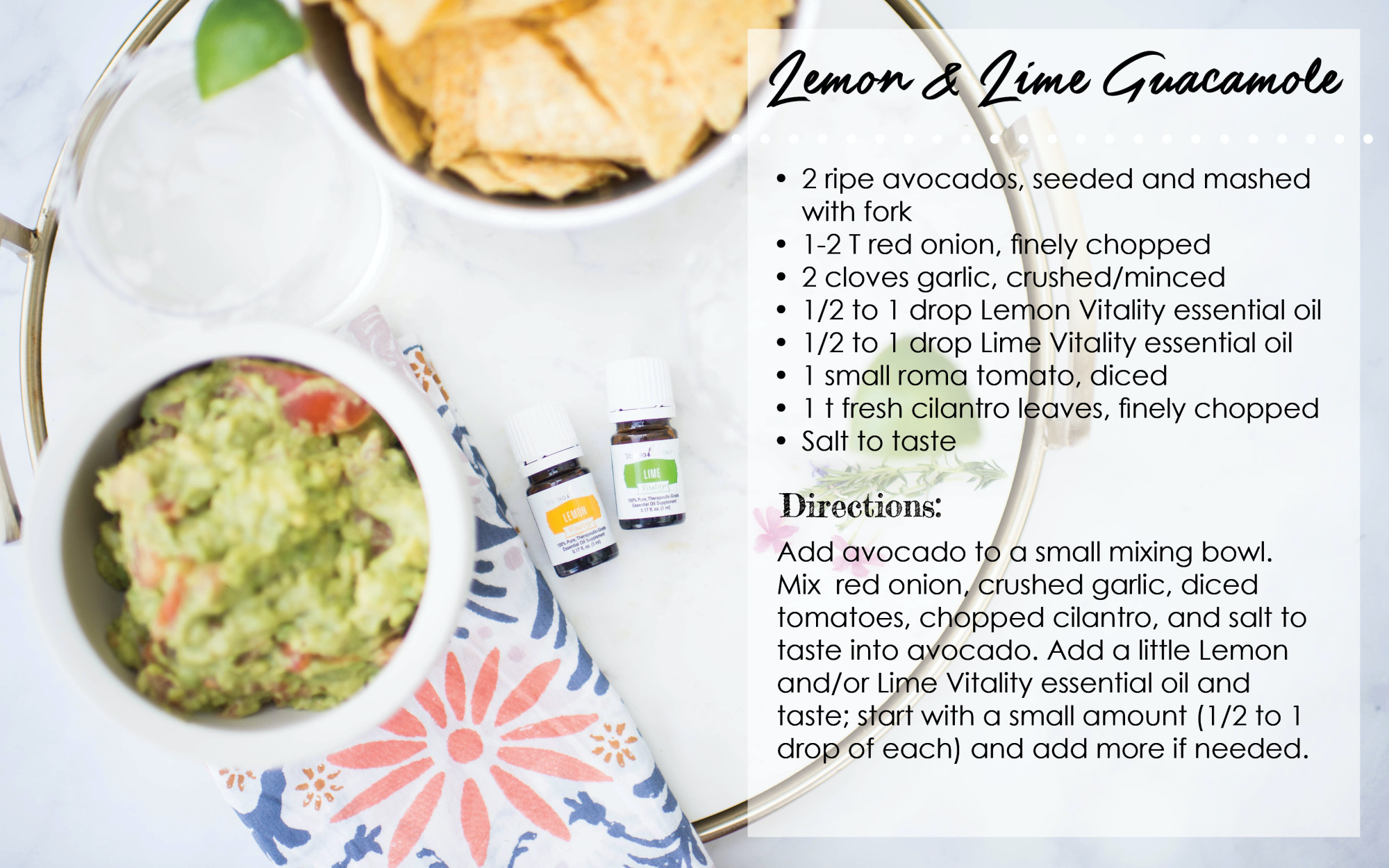 Directions: Add avocado to a small mixing bowl. Mix into the avocado the red onion, crushed garlic, diced tomatoes, chopped cilantro, and salt to taste. Add a little of the lemon and/or lime essential oil (use the dilution tip we gave you) and taste; add more to taste. Serve with tortilla chips.
Onion trick: To remove some of the bite of the red onion, soak the chopped onion in warm water for five minutes and then remove from the water.
Combine the following in a blender:
¼ of a 28-oz can of organic diced tomatoes
cilantro to taste
1 clove garlic
1 jalapeño pepper
2-3 drops Lime Vitality Essential Oil
3 tsp sea salt
2 tsp ground cumin
2 tsp chili powder
½ white or yellow onion, minced
Blend/pulse until onion is in small pieces, add the rest of the can of tomatoes, pulse a few more times, and you're ready to go!
Homemade Grapefruit Vinaigrette Dressing
3 T grapefruit juice from the can, or 3 T fresh-squeezed grapefruit juice
1/4 cup olive oil
2 tsp honey
1 or 2 drops Grapefruit Vitality Essential Oil, to taste
Pinch of salt and pepper

Did you know?
Lime Vitality supports your digestive, immune, and respiratory systems. Grapefruit Vitality supports your cardiovascular system. Lemon Vitality supports your digestive, immune, and respiratory systems.
---
Next up...Adult Beverages!
Looking for an easy and delicious summer cocktail? Try this simple Red Sangria recipe with real ingredients and essential oils. Delicious for any occasion! Or try this great mojitos recipe!!
2 shots rum
1 shot agave syrup
1/2 squeezed lime
Sprig of mint
Splash of soda water
1 1/2 cup ice
2 drops Spearmint Essential Oil
4 drops Lime Vitality Essential Oil
Use a muddler to muddle your mint in the bottom of your glass.
Blend all other ingredients in the blender. Pour into glass and serve with a slice of lime on the glass.
Cheers! And… please drink responsibly.
Did you know?
Lime Vitality supports your digestive, immune, and respiratory systems. Citrus Fresh Vitality supports your immune system. Grapefruit Vitality supports your cardiovascular system. Orange Vitality supports your digestive & immune systems and promotes healthy skin. Spearmint Vitality supports your digestive system.
---
We can't leave the kids out! Next up, drinks for the kids!
I'm always looking for delicious alternatives to artificial flavors and drinks with tons of sugar. This recipe is easy and delicious; the kids will love it. They also incorporate essential oils like...
Lemon Vitality: Supports your digestive, immune and respiratory systems.
Lavender Vitality: Supports the cardiovascular and nervous system.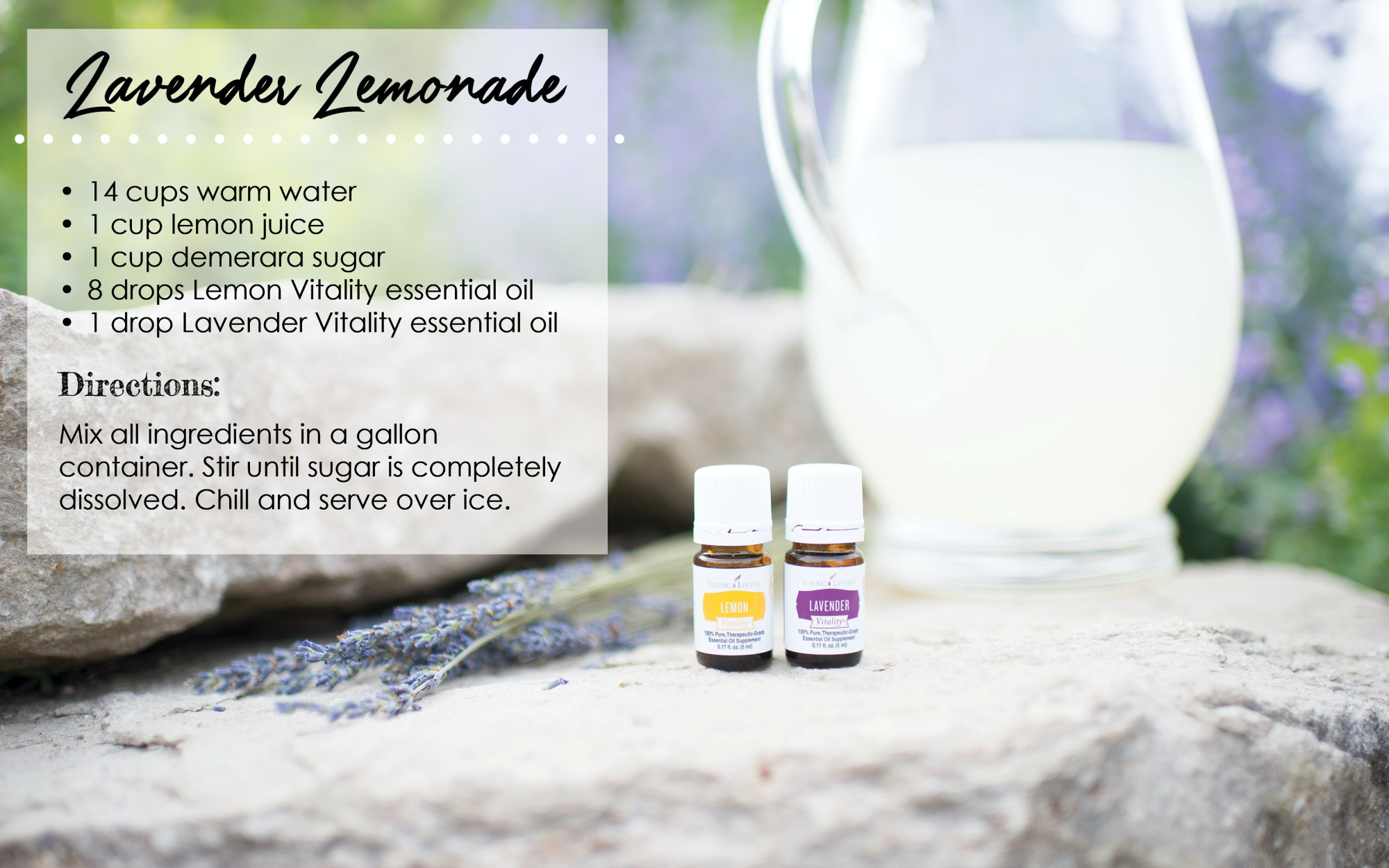 Lavender Lemonade
14 cups water
1 cup lemon juice
1 cup demerara sugar or any other natural sweetener substitute
8 drops Lemon Vitality Essential Oils
1 drop Lavender Vitality Essential Oils
Mix all ingredients in a gallon container. Stir until sugar is completely dissolved. Chill and serve over ice.
---
Time to eat!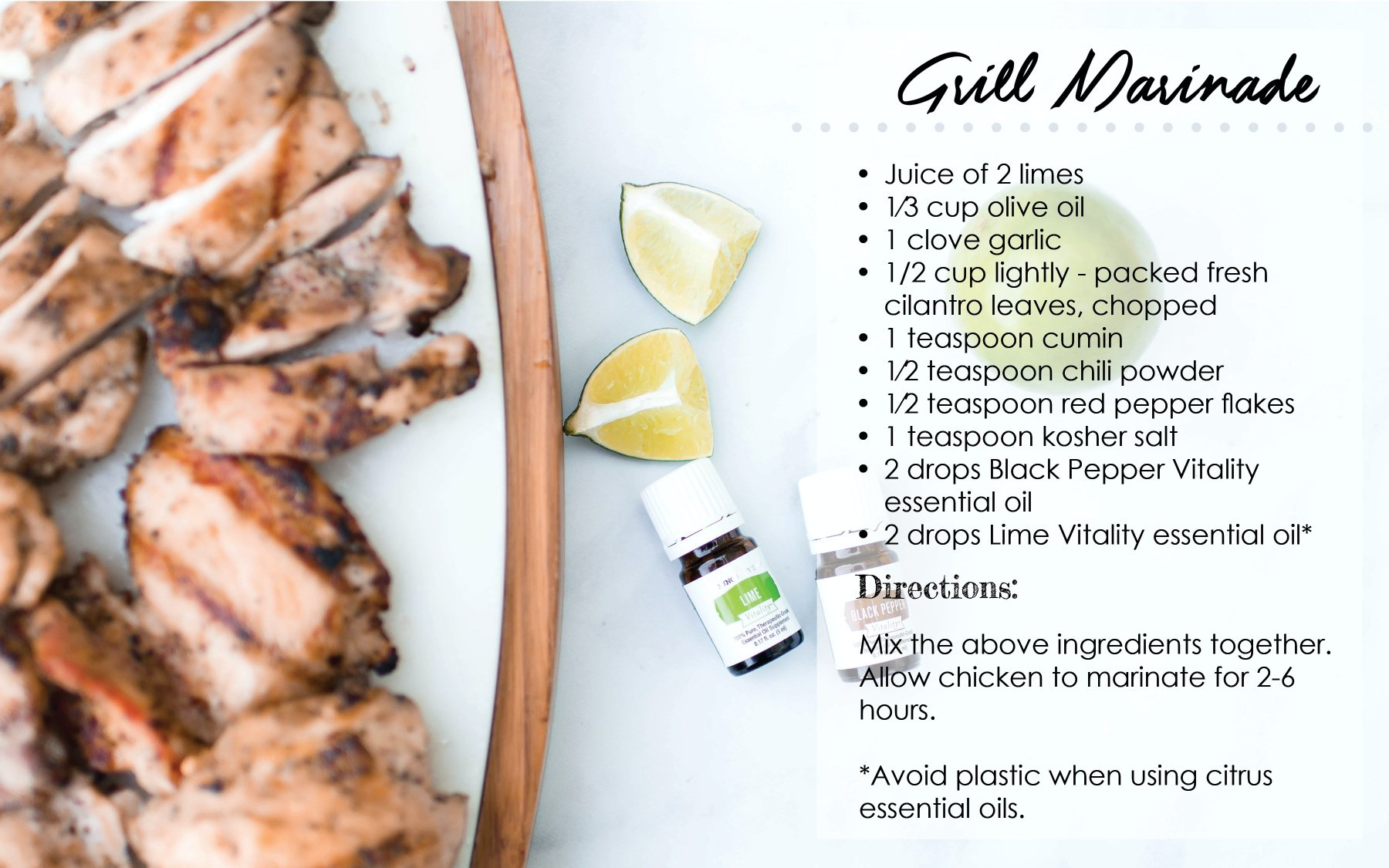 Grill Marinades
Store-bought marinades have a shelf life, which means the ingredients lose freshness every day they sit there, and at the same time, the flavors lose their intensity.
The secret to mastering marinades is in knowing the effect of various marinating durations.
Marinating for two hours or less will impart a surface flavor.
For a fully infused flavor, marinade for 8-24 hours.
NOTE: The thicker the meat, the longer it takes to absorb the flavor.
Here are a couple of my favorite marinade recipes. They're full of flavor AND free of any preservatives and include the following oils:
Lemon Vitality & Lime Vitality supports your digestive, immune, and respiratory systems.
Coriander Vitality supports your digestive and hormonal systems.
Black Pepper Vitality supports your digestive and nervous systems.
Is anybody here a taco fan? Check out this killer Chicken Marinade!
Juice of 2 limes
1⁄3 cup olive oil
1 clove garlic
1/2 cup lightly packed fresh cilantro leaves, chopped
1 teaspoon cumin
1⁄2 teaspoon chili powder
1⁄2 teaspoon red pepper flakes
1 teaspoon kosher salt
2 drops Black Pepper Vitality Essential Oil
*2 drops Lime Vitality Essential Oil
Mix the above ingredients together. Allow chicken to marinate for 2-6 hours.
*Avoid plastic when using citrus essential oils.
Here's a delicious shrimp marinade that is perfect for those shrimp kabobs!
Shrimp Marinade
Ingredients:
1 tablespoon extra-virgin olive oil
1/2 teaspoon Dijon mustard
1 teaspoon fresh parsley, chopped
1/4 teaspoon garlic powder
2 drops Lemon Vitality Essential Oil
2 drops Coriander Vitality Essential Oi
---
Desserts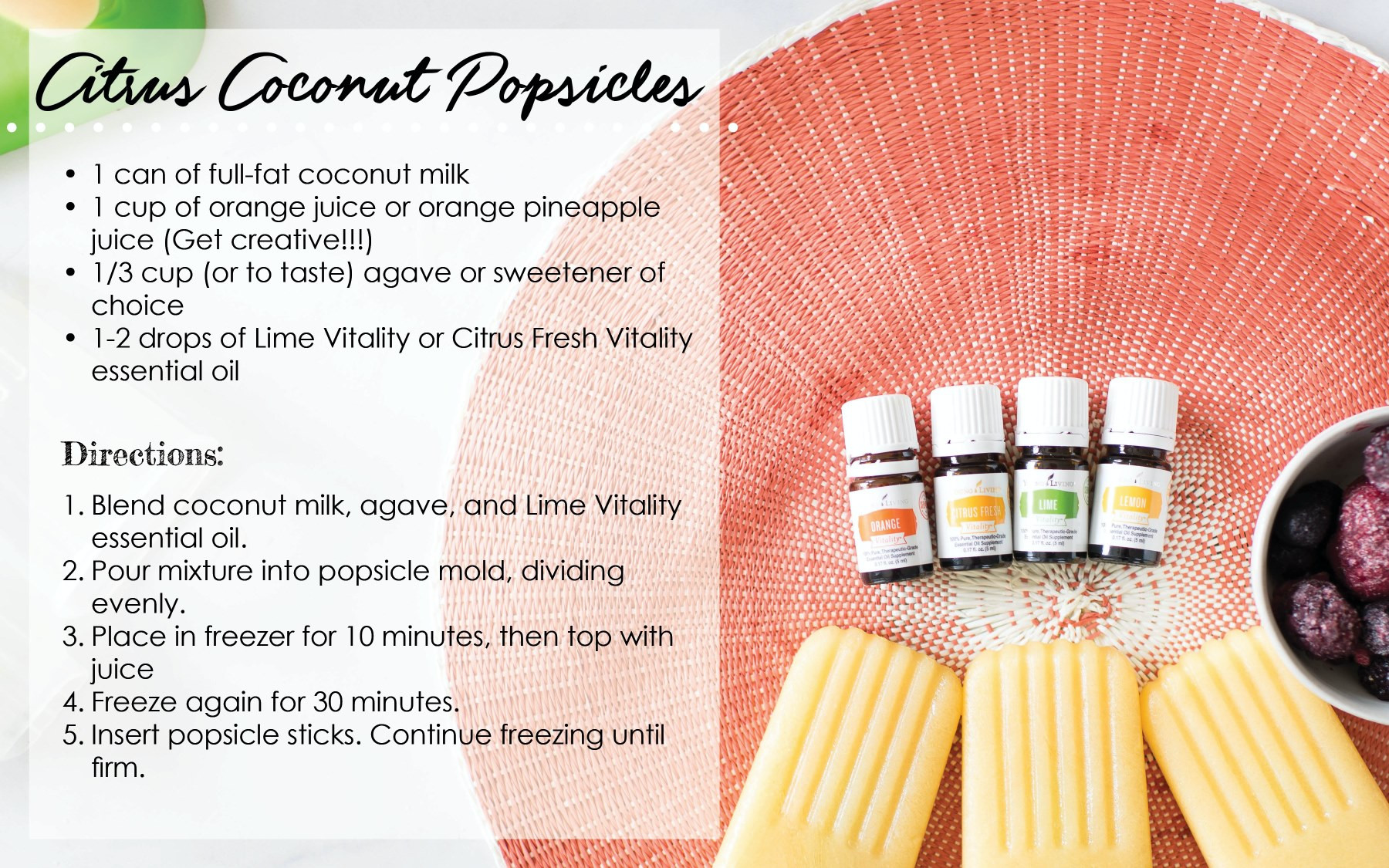 No meal would be complete without dessert!
Citrus Coconut Popsicles are the perfect way to cool down on those HOT summer nights!
Lime Vitality supports your digestive, immune, and respiratory systems.
Citrus Fresh Vitality supports your immune system.
Ingredients:
1 can of full-fat coconut milk
1 cup of orange juice or orange pineapple juice (Get creative!!!)
1/3 cup (or to taste) agave or sweetener of choice
1-2 drops of Lime Vitality or Citrus Fresh Vitality Essential Oil
Directions:
Blend coconut milk, agave, and Lime Vitality Essential Oil.
Pour mixture into popsicle mold, dividing evenly.
Place in freezer for 10 minutes; then top with juice
Freeze again for 30 minutes.
Insert popsicle sticks. Continue freezing until firm.
---
Next up, some simple recipes to ensure you enjoy your Summer Fun!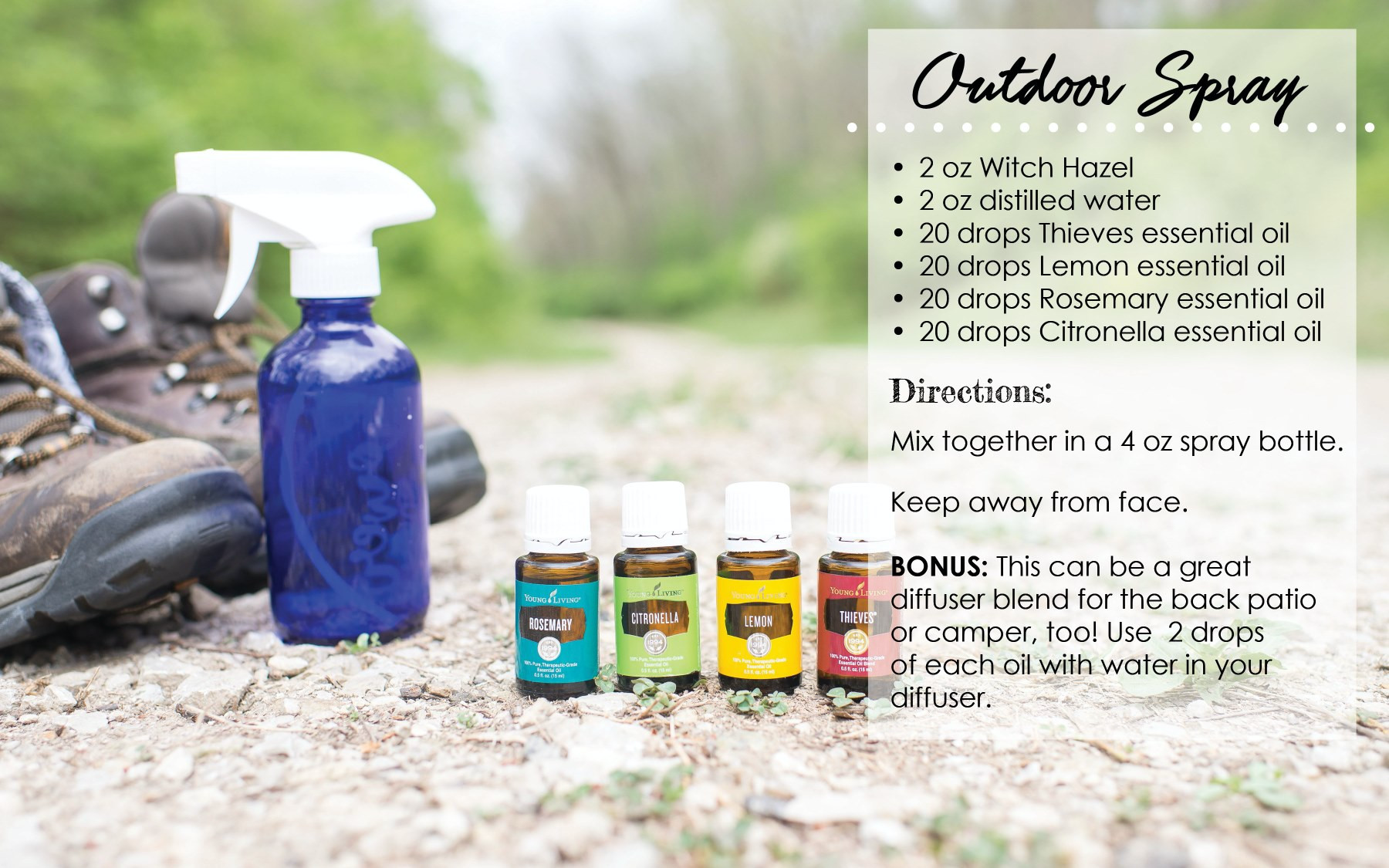 Outdoor Spray
Hot summer evenings outside are best enjoyed annoyance-free. Check out this awesome-smelling outside spray that will keep your evenings much more enjoyable.
Ingredients:
2 oz Witch Hazel
2 oz distilled water
20 drops Thieves Essential Oil
20 drops Lemon Essential Oil
20 drops Rosemary Essential Oil
20 drops Citronella Essential Oil
Mix together in a 4oz spray bottle.
Keep away from the face when you apply.
BONUS: This can also be a great diffuser blend for the back patio or camper! Use two drops of each oil with water in your diffuser.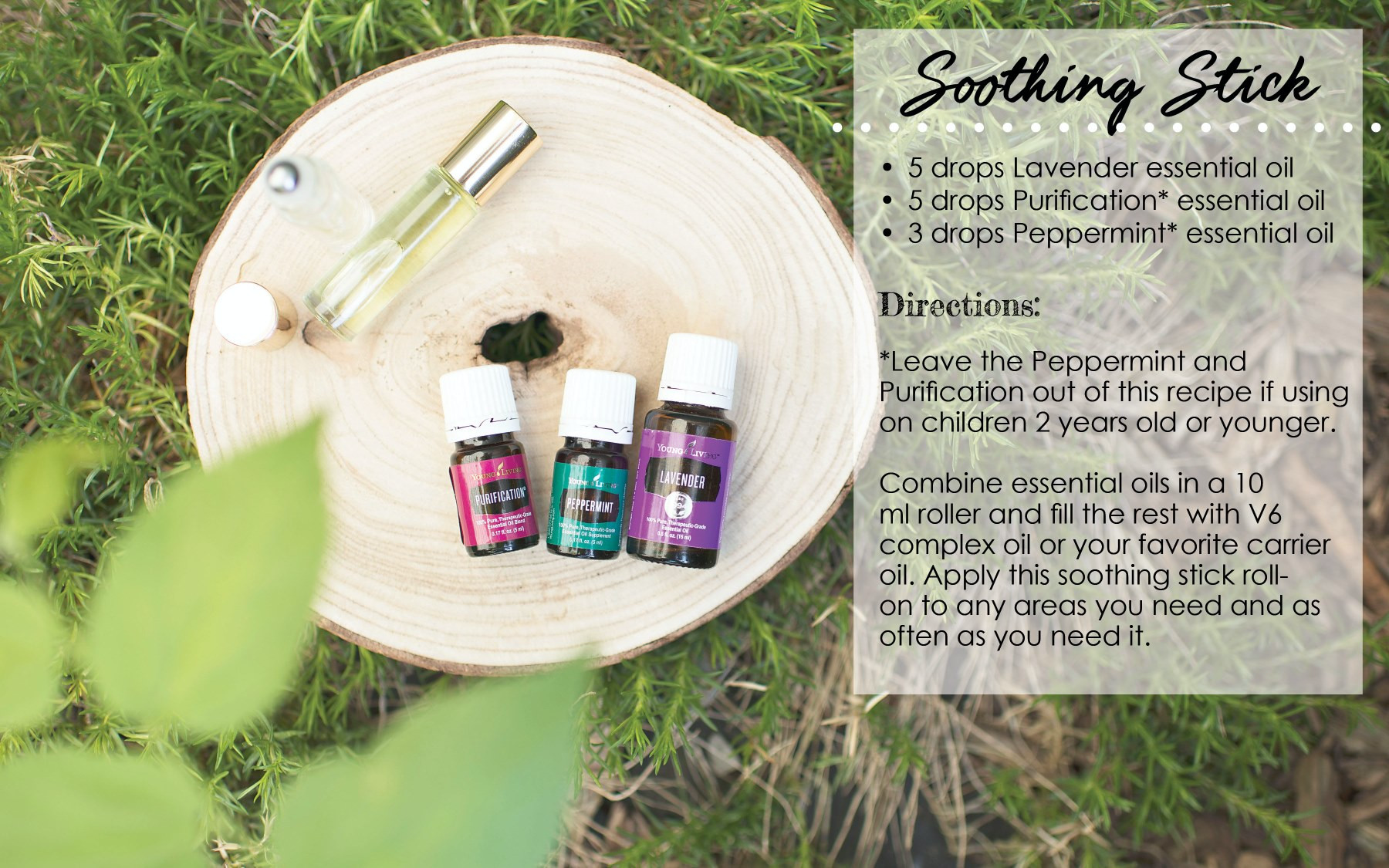 Soothing Stick
If you forget to apply your outdoor spray, don't worry. I have your back. This is perfect for kids!
DIY Soothing Stick
5 drops Lavender Essential Oil
5 drops *Purification Essential Oil
3 drops *Peppermint Essential Oil
*Leave the Peppermint and Purification out of this recipe if using on children 2 years old or younger.
Combine these magical essential oils in a 10 ml roller and fill the rest with V6 complex oil or your favorite carrier oil. Apply this soothing stick roll-on to any areas you need and as often as you need it.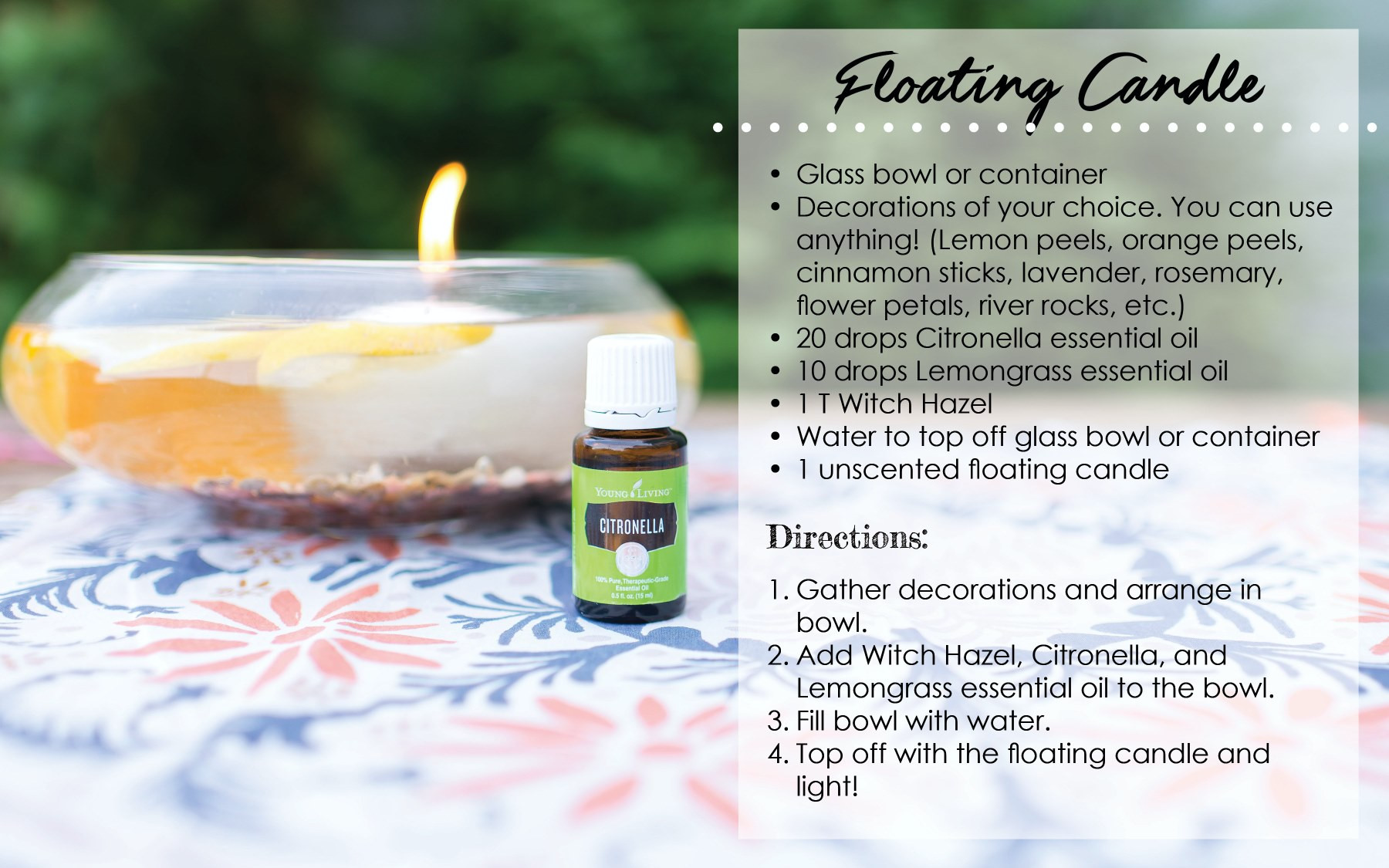 Floating Citronella Candle
Spruce up your summer social with this beautiful DIY citronella candle. It is not only EASY, but it will change the look of any table, AND it actually WORKS!
Did you know that many store-bought citronella candles don't contain citronella oil? Instead, the candles are often just citronella 'scented.' BIG difference.
Supplies
Glass bowl or container
Decorations of your choice. You can use anything! (Lemon peels, orange peels, cinnamon sticks, lavender, rosemary, flower petals, river rocks, etc.)
20 drops Citronella Essential Oil
10 drops Lemongrass Essential Oil
1 T Witch Hazel
Water to top off glass bowl or container
1 unscented floating candle
Instructions
Gather decorations and arrange in a bowl. I recommend cutting them into two-inch pieces so they don't bunch at the top of the bowl or cause it to overturn.
Add Witch Hazel, Citronella, and Lemongrass Essential Oil to the bowl.
Fill in the remaining bowl space with water.
After placing your bowl outside, top it off with the floating candle and light it to create a cozy, aromatic ambiance you and your guests can enjoy throughout the evening.
Fun fact about Citronella Essential Oil! There are quite a few recipes out there to create your own aluminum-free deodorant with citronella. (We will save those for another class.) Meanwhile, did you know that the aluminum in deodorants has been linked to health problems, including the neurological damage associated with Alzheimer's disease, and conditions like anemia, Lou Gehrig's disease, glucose intolerance, memory problems, and Parkinson's disease? GROSS!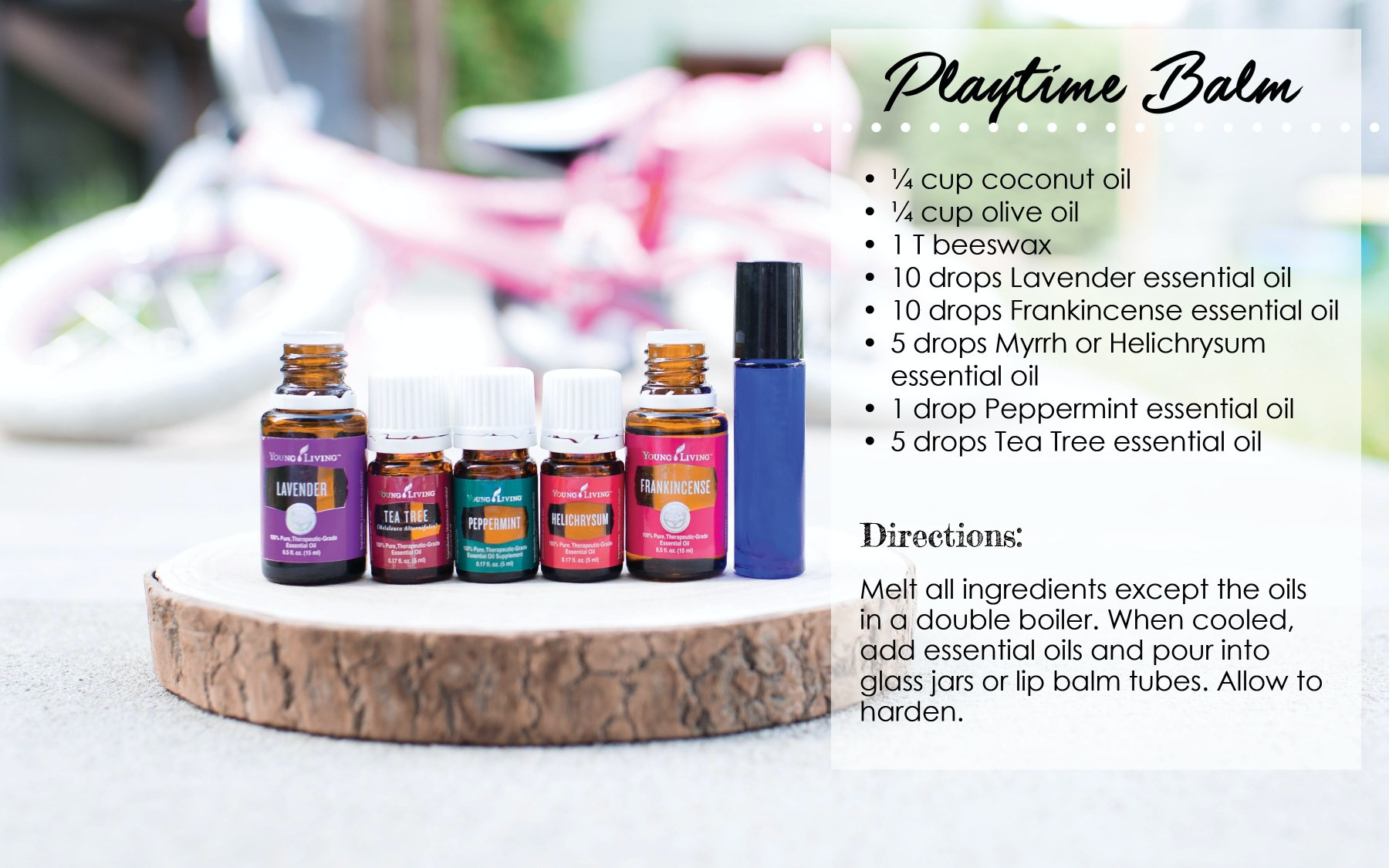 Playtime Balm
Ok this DIY is a little more complicated but definitely worth it! I promise. This will have you ready for all those mishaps that summer can bring.
Playtime Balm
Ingredients:
¼ cup coconut oil
¼ cup olive oil
1 T beeswax
10 drops Lavender Essential Oil
10 drops Frankincense Essential Oil
5 drops Myrrh or Helichrysum Essential Oil
1 drop Peppermint Essential Oil
5 drops Tea Tree Essential Oil
Directions:
Melt all ingredients except the oils in a double boiler. When cooled, add essential oils and pour into glass jars or lip balm tubes. Allow to harden.
Apply to knees, elbows, and any other place that might need a little extra love.
And that's it! You're ready for a summer barbeque!