11/01/2023 12:00 PM Central
Sherri Sharpe Herzberg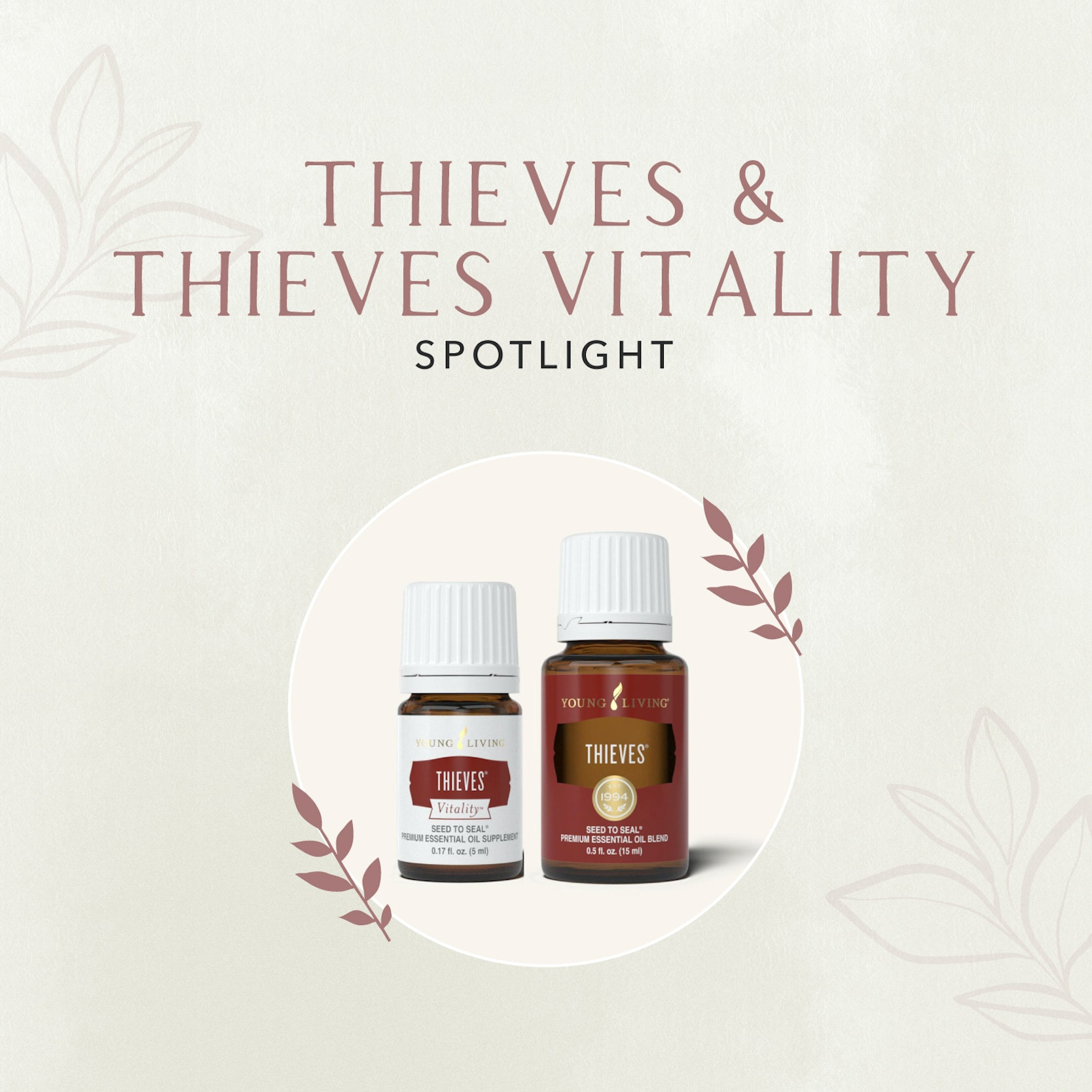 Formulated by Young Living founder, D. Gary Young, this blend was created from research recorded in the archives of the British Museum library about a group of 14th century European perfumers and spice traders who rubbed oils on themselves while they robbed the dead and dying. The first essential oil blend to be scientifically evaluated in a university research laboratory, Thieves has a rich, spicy aroma, and is a key ingredient in the Thieves Home Collection – your go to for an invigorating clean and healthy home.
*Constituents are naturally occurring compounds in plants (and therefore essential oils) that give them specific health-supporting properties
Eugenol: known for its antioxidant and anti-inflammatory support as well as antimicrobial activity
Eucalyptol: has a calming effect when applied in aromatherapy; may have anti-inflammatory, antioxidant, antibacterial effects; supports airway opening.
Linalool: supports stress relief and uplifts the mood
Thieves is a powerhouse for our health, both physical and emotional. This makes a lot of sense since our emotions are closely linked with our physical health. When we are sick our energy is low, we struggle with brain fog and lethargy. Thieves can help us there! Rosemary, Clove, and Cinnamon are all wonderful for helping combat brain fog, clearing the mind, and energizing our spirits. Diffuse, apply, add to an Epsom salt bath.
Thieves is a wonderful choice when you need to help promote clarity. If you're feeling uncertain or unfocused, the blend of oils in Thieves can be helpful. Dilute and apply it over the throat or over the liver.
Thieves Essential Oil
Thieves Vitality Essential Oil
Thieves Roll-On
Thieves Essential Oil blend is also infused into a line of home and personal care items that are staples in our homes - cleaner, hand soap, dish and laundry soap, toothpaste, mouthwash and more. See the related resources below for more!
Note: Thieves and Thieves Vitality are the same essential oil. Vitality oils are labeled for ingestion but contain the same oil as the non-vitality option.
DAILY HABITS WITH THIEVES
Thieves is one of our favorite oils to use in our homes and health routines. Try some of these suggestions below, and check out the Thieves Vitality Recipes resource linked below for some of our favorite ways to add this chai-inspired oil to our food and drink!
Use Thieves Vitality in your wellness and cooking routines
Take in a capsule to help support the immune system.
Put a drop in your morning juice, tea, or coffee or add 1-2 drops to coffee ground before brewing.
Make 'Thieves Tea' to boost the immune system or when you feel that tingle in the back of your throat:

Add a drizzle of raw honey to a large mug
Add 1 drop each Thieves, Lemon Vitality
Add hot water and/or herbal tea bag and steep.

Thieves + Honey Throat Coat:

1 tbsp honey
1 tsp water
2 drops Thieves Vitality
3 drops Lemon.
Heat up the water and honey together until liquid then add in the oils. Stir together and serve on a spoon. Make sure the liquid isn't too hot or close to boiling before adding oils.

Add a drop to oatmeal, granola, or other cereal to elevate your breakfast and help cleanse the digestive system.
Add 1-2 drops to a shot of NingXia Red for a quick spicy boost.
Add Thieves to your natural home care routine
Add a few drops to dryer balls for the fresh smelling laundry.
Make a Mattress & Upholstery Spray to use when you change the sheets or anytime a surface needs a little freshening:

16 oz glass spray bottle
1-2 tsp Thieves Household Cleaner
20 drops each Thieves, Lavender, Lemon
Filtered water

Add a few drops to your dishwater or dishwasher to eliminate odors and boost cleaning.
Make this Citrus Spice Thieves Cleaner recipe:

16 oz glass spray bottle
1-2 capfuls Thieves Household Cleaner
10 drops each Tangerine, Lemon
20 drops Thieves
Filtered water

Make a DIY Carpet & Rug Freshener

To a glass jar add:
1 cup baking soda
½ cup salt
30 drops Thieves
Optional: 20 drops Lemon
Mix well. When ready to use, sprinkle over carpets and let sit for 10 minutes before vacuuming.
Use Thieves in your wellness & acute care routines
Dilute and apply to the bottom of your feet during cold winter months.
Dilute and apply to the bottoms of your kids' feet in the morning and for a great day at school. We love to make rollers for this!
Diffuse this cleansing blend any time of day, either alone or with other immune supporting favorites.
Add Thieves to an epsom salt bath for a gentle detox or use more in a more concentrated way when your defenses go down.
Make a simple chest rub to support the airways:

½ cup solid coconut oil
20 drops Thieves
Optional: 15 drops R.C. or Raven, 20 drops Lemon
Apply to the chest and back as desired.
Diffusing is a wonderful health habit! We have our diuser going almost 24/7 and love to choose blends that are supportive of individual needs or systems. Try some of these great combinations and enjoy the spicy, supporting aroma of Thieves!
After School: 4 drops each Thieves, Tangerine, R.C. or Raven
Snickerdoodle: 4 drops Thieves + 5 drops Stress Away + 3 drops Vanilla
Deep Breathe: 3 drops Peppermint + 4 drops Thieves + 3 drops Frankincense
Well Rested: 4 drops Thieves + 4 drops Lavender + 3 drops Cedarwood
Crisp Breeze: 3 drops each Thieves, Grapefruit, Bergamot + 2 drops Orange
Open Windows: 4 drops Thieves, Citrus Fresh + 3 drops each Lime
Obviously, I love my Thieves around here. Lol. But don't just take my word for it...
"My daughter gets cold sores really often and I started putting thieves on them. They go away so fast and now only come back like once a year!!" - Keltin C.
"Thieves tea with honey - so good on my throat!!!" - Ashlee E
"When I feel strep starting (I've always gotten it at least twice a year for a decade) I swallow a couple drops, a few times a day. It never develops into a full blown infection like before. (And Drs can tell it's healed strep!)" - Jamie G.
"I apply thieves topically every day for the immune support. I'm a teacher and it goes in my classroom diffuser (usually with a citrus oil) every day!" - Amy L.
"Thieves is what got me started with essential oils 8 years ago. It was Thanksgiving break and I had horrible tooth pain, but no dentists were available. A friend gave me some Thieves to hopefully help numb it and it was a lifesaver. I bought a starter kit the next month!" - Ashley G.